Are you wondering if your computer needs protection against malware in your PC? The answer is… yes! Spending a lot of time online can expose you to various computer attacks. Here are our picks for the best antivirus software you'll need for your business. Antivirus software is necessary to protect your identity and files. Even if you don't manage a lot of data, your personal information may be at risk for cybercrime, especially with how sophisticated hackers have gotten as of late. In case of a virus or a cyber criminal making its way through your equipment defenses, it can cause problems such as identity theft, scams, ransomware being installed on your machine, and a lot of other nasty stuff.
If you want to avoid chaos and make sure nothing jeopardizes your information, you want a program that includes: malware protection, malicious software activity detection, downloads monitoring and suspicious behavior inspection.
Taking this into consideration, here are the top 5 best antivirus in the market:
1) Bitdefender 
On number one with the best reviews: Bitdefender. This software uses advanced AI to "anticipate, detect and instantly block even the latest threats". Bitdefender has had the best detection rate in the industry for the last five years.
Compared to the market, it has the best protection against infections and less impact on performance. This means it works the hardest without you even noticing. This antivirus keeps your files, images and videos safe from threats like ransomware and malware. 
Within this protection, you are safe from online scams. Bitdefender's anti phishing advanced protection analizes and blocks pages masquerading as trusted websites to steal bank details or passwords. 
You can get a one-year subscription to Bitdefender

Antivirus Plus

. For 3 devices and basic protection for Windows PC for $59.99. 

For 5 devices and protection for Windows, macOS, IOS and Android, you can get the

Total Security

one-year plan for $89.99.

For 3 devices and advanced protection for Windows PC, you can get the

Internet Security

one-year plan for $79.99
You can find more information here for Bitdefender here
2) Norton 360
A very well known option is Norton software. Norton's antivirus plans have multiple protection layers for your devices and online privacy. Some of the stand out features are: the intelligent firewall, PC maintenance features and bundled backup tool with online storage. The subscriptions have valuable prices but it is compensated with the useful components.
These are some of the features that Norton 360 Standard offers: 
Anti-Spyware, Antivirus, Malware & Ransomware Protection

Online Threat Protection

Smart Firewall

Password Manager

Cloud Backup

100% Virus Protection Promise

Parental Control

Secure VPN

Privacy Monitor

PC SafeCam
Also, check out their pricing options compiled for your convenience:
Norton AntiVirus Plus offers protection for 1 PCs, Macs, smartphone or tablet for US$24.99

Norton 360 Standard offers protection for 1 PCs, Macs, smartphone or tablet for US$39.99

Norton 360 Deluxe offers protection for up to 5 PCs, Macs, smartphones or tablets for US$64.99

Norton 360 Premium offers protection for up to 10 PCs, Macs, smartphones or tablets for US$89.99
This antivirus works with solid protection with genuinely useful features. Norton promises a virus protection guarantee. If they are unable to delete a virus from your device you get your money back! In addition to virus protection, some Norton plans provide 100GB of backup to the cloud, safe-browsing tools, a secure VPN, password manager, parental controls and LifeLock identity theft protection and fraud alert. While not all of those services are necessarily the lead in the market, getting them all in one package is a great choice.
3) TotalAV
If you are looking for a friendly and light antivirus, TotalAV might be your preferred choice. This software has Real-Time protection from viruses, malware & online threats. For your devices, you can protect yourself from threats and help you navigate the internet safely. 
This software checks downloads, installs and executables for viruses & threats each time your computer accesses them. TotalAV was awarded for 100% malware detection! Detecting all malware in multiple tests and 0% false positives. 
This cybersecurity includes also a wide range of security functions such as: blocking tracking cookies, Ad Block Pro, VPN, password vault and WebShield (the first line of defence against fake, scam, phishing & 'spoofed' websites).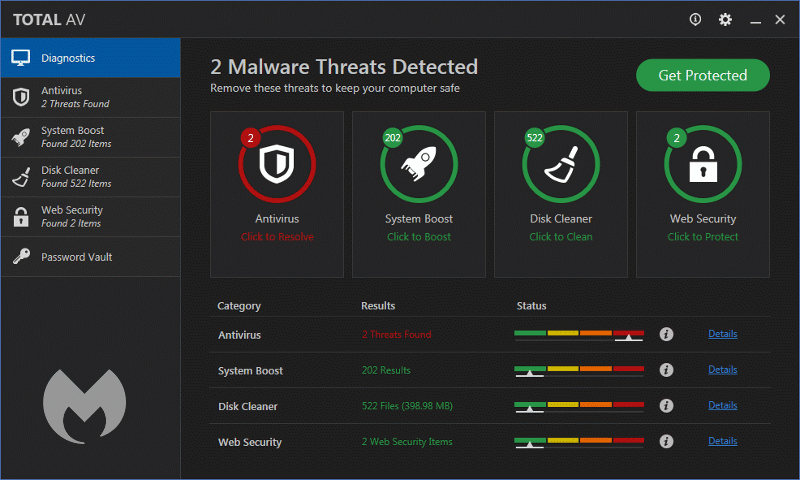 Taking care of your browser activity will help you have a faster and safer device. TotalAV helps in clearing browser data to improve security and speed. Plus removes junk files that slow down your hard drive. 
You can get the Antivirus Pro 2022 for $99 protecting 3 devices. There are other options including VPN privacy like the Internet Security software for $119 protecting 5 devices or the Total Security plan for $149 protecting 6 devices plus Password Vault and Total Adblock. 
You can get more information here.
4) McAfee
With awarded security as well, you can get the McAFee Antivirus for you and your family. This online and cybersecurity software will defend your device against the latest virus, malware, spyware and ransomware attacks by controlling aspects of your privacy and identity. 
McAfee Protection provides a wide range of protection solutions to look after your devices, privacy and identity. It is a great option for families or companies with multiple devices with it's compatibility with PC, MacOS and smartphones. Implementing spam filtering features, secure encryption of sensitive files, and more.
They also take online security measures seriously. With the auto-renew service you get a secure VPN with your antivirus subscription. It includes privacy protection layers defending and destroying confidential files, eliminating cookies and implementing precautionary measures. It helps wipe out the digital footprint that can endanger your identity or invade your privacy.
It has a robust firewall and a user-friendly interface. Even though, you might experience slow full scan on Windows and macOS and fewer features in macOS and IOS. 
The Total Protection McAfee® subscription includes the Award-winning Antivirus, a Secure VPN, Performance Optimization, Home Network Security, Security Experts and Online Support, Password Manager, Safe Web browsing, McAfee® Shredder®, Encrypted Storage and Identity Protection Service.
You can get the basic Total Protection for 1 device for $84.99/per year.
5) Microsoft Windows Defender
One of the best antivirus software windows 10 in the market regarding price and performance ratio is the Windows Security Software. Why, you ask? Because it's free! If you have a PC running Windows 10 or 11 you can get built-in advanced security to defend against today's cyberthreats.
Windows Security continually scans for malware, viruses, and security threats in real-time. Windows Defender brings together machine learning, big data analytics, in-depth threat resistance research, and Microsoft cloud infrastructure to protect the devices (or endpoints). The antivirus works with your system endpoint to provide protection on the device and in the cloud.
Within your system configuration, you will find "Security" where you can verify the Virus and threat protection, account protection, firewall and network protection, and Device Safety. This is a great starting point for identity security and being aware of your digital footprint.
The device you're reading this on is capable of doing exceptional things. Don't forget to protect it and your information, so you can avoid any problem in your privacy and data.